Theme: Innovations, Outcomes and New Technologies in Pharmaceutical Sciences and Drug Discovery Systems
Pharma Middle East 2020
Join us for 21st Middle East PharmaTech & Expo
Update your skills, Meet your academic heroes, Engage in high-level debates and refine your ideas enhance your knowledge base, and broaden your horizons, Visit a new place and have fun, - all in one place!
Pharmacology | Pharmaceutical Biotechnology | Pharmacogenomics | Drug Delivery Systems | Bio-drugs | Pharmacovigilance and Drug Safety | Pharmaceutical Microbiology | Pharmaceutical Research and Development | Pharmaceutical Analysis and Quality Assurance | Bio-therapeutics | Radiopharmaceuticals | Vaccine Design | Formulation Technologies | Clinical Pharmacy | Industrial Pharmacy | Pharmaceutical Chemistry | Pharmaceutics
Date: November 23-24, 2020
---
Corona Virus Update: as of 20.03.2020
While working on the organization of the Pharma Middle East 2020 we are also paying close attention to news about the Coronavirus epidemic and are following the guidance of the World Health Organization (WHO) , the European Centre for Disease Prevention and Control (ECDC) and the Centers of Disease Control and Prevention (CDC) in this respect. Currently the Coronavirus epidemic doesn't have an effect on our preparations and we look forward to welcoming you all for PME 2020 .
We shall keep you informed as new data becomes available.
Pharmacy is the science with the technique of preparing drugs and dispensing. It is a health-related profession that links medical sciences with chemical sciences and aims to ensure the secure and productive use of pharmaceutical drugs. Pharmacists are the specialist on the drug therapy and are the primary health professionals who enhance the use of medication for the benefit of the patients. Pharmaceutical Sciences is a dynamic and interdisciplinary field that aims to integrate basic principles of Inorganic and organic chemistry, engineering, biochemistry, and biology to understand the optimized drug delivery to the body and translate this integrated understanding into advanced and innovative therapies against human diseases and disorders.
Human Anatomy is the scientific study of the Human body in detail. Anatomy involves the morphological study of different systems in the human body namely Respiratory, Nervous, Digestive, Endocrine, Reproductive, Urinary, Cardiac, etc… Anatomy also deals with the muscular system which gets supports through the skeletal system. Pathophysiology is a union of pathology with the physiology that can also be termed as Physiopathology. Pathology is a medical division that describes conditions that observed in a person in the diseased state whereas physiology is the biological study that describes operative functions or activities within an organism. Pathology describes the unusual or undesirable condition, whereas Pathophysiology deals with the functional changes associated with or resulting from disease or injury.
Bioinformatics is an integrative field that develops system and software tools for assimilation of biological data. As an interdisciplinary field of study, bioinformatics unites biology, computer science, information engineering, mathematics and statistics to analyse and explain biological data. Bioinformatics has been used for in silicon analyses of biological queries using arithmetical and statistical techniques. Biomaterials' is a science that existing from 50 years, the biomaterial is a substance that has been managed to merge with biological systems for a medical purpose - either a therapeutic or a diagnostic one. The study of biomaterials is termed as biomaterials science or biomaterials engineering.
Pharmacognosy is the study of chemical constituents obtained from plant and natural sources. Pharmacognosy deals with herbal derived products, non-organic derivatives and also with excipients from plant or mineral origin. Cosmeceuticals and Neutraceuticals are also part of pharmacognosy. The study through pharmacognosy involves the biological background of crude drugs. Through metabolic activities, all plants produce some chemical called plant constituents. Depending on those active constituents' quality and quantity pharmacognostic study takes place. Botany is the science of plant life and a branch of biology, also called plant science, plant biology or phytology.
Nanotechnology is a field that deals with studies on Nano-sized particles. The nanotechnology to the pharma is the commanding combination to produce effective drug formulations and advanced drug delivery systems. It includes nanomedicines, nanoparticles and their synthesis, targeted drug delivery, Pro-drug development, Physical pharmacy, Bio-pharmaceutics, membrane function and transport, Responsive delivery systems, and novel drug delivery systems in it. The pharmaceutical study of nanotechnology needs experts like medical practitioners, pharmaceutical researchers, laboratory professionals, learners, academicians, and industry that is involved in Medical, Pharmaceutical and clinical studies.
Medicinal Chemistry is a part of chemical sciences particularly related to synthetic organic chemistry and pharmacological studies and different other organic qualities, where they are included with a plan, substance mix and advancement for a market of pharmaceutical operators, or bio-dynamic particles. It is also termed as Pharmaceutical Chemistry. Specifically, regenerative science in its most regular work concentrating on little natural atoms includes natural science and parts of characteristic items and computational science in a close blend with a group of studies, enzymology and basic science, together going for the revelation and advancement of new remedial specialists. The medicinal chemistry also deals with hydrocarbons which are a crucial part of Pharmaceutical Studies.
Pharmacology is the biological science that deals with what happens to and by the drugs in the human body. It deals with the synthesis of drug and its design, drug's cellular and molecular mechanisms, cellular communication, drug-drug interactions, drug-food interactions, metabolism & catabolism, absorption, distribution, excretion of drugs, drug toxic effects. Pharmacological studies involve two major branches which are the Pharmacodynamics and the Pharmacokinetics where the first one deals with what drug does to the human body and the second one deal with what body does to the drug after it has been administered into the body.
Cancer pharmacology includes the study of the basic mechanisms of signal transduction associated with cell proliferation and apoptosis, the mechanisms of action of anti-neoplastic agents, the design and discovery of new medicines, basic mechanisms of DNA repair and damage tolerance and the development of innovative strategies for gene therapy. Cancer Pharmacology concentrates on developing experimental approaches to the clinical treatment of cancer through research that bridges the fields of molecular carcinogenesis, biochemical pharmacology, radiation biology, and clinical pharmacology.
Clinical Pharmacy is the branch of pharmacy in which a PharmD graduate can provide the patient care that enhances the utilization of medicines and advances in well-being, health, and disease avoidance. Clinical pharmacists foster patients in all medicinal services settings yet the clinical pharmacy development at first started inside doctor's facilities and centres. Clinical pharmacists frequently work in a joint effort with doctors and other human services experts. Clinical pharmacists have broad instruction in the biomedical, pharmaceutical, socio-behavioural and clinical sciences. Most clinical pharmacists have a Doctor of Pharmacy degree and numerous have finished at least one years of post-graduate preparing as a general and additionally claim to fame pharma store residency.
Pharmaceutical biotechnology is the branch of Biotechnology that deals with pharmaceuticals and its principles to the development of drugs. A majority of therapeutic drugs in the present drug market are bio-formulations, such as antibodies, nucleic acid products and vaccines. Pharmaceutical Microbiology is the sciences that interconnect Microbiology with Pharmaceutical studies to ensure the drug formulations negativity to the microbial and foreign particles.
Pharmacists are the basic tool for the medicinal services multidisciplinary group of pharmacy. They help to assure that prescriptions are utilized as a part of the most secure and best way. The set of principles to direct basic leadership for drug specialist and to raise moral trustworthiness differs as according to the country and expert body that makes the rules. Drug Regulatory Affairs or Government Affairs is a profession within regulated endeavours like pharmaceuticals, medicinal gadgets, agrochemicals, vitality etc… Regulatory Affairs additionally have certain significance within the Healthcare industries, such as pharmaceuticals, medical devices, biologics and practical aliment.
The profession of pharmacy is a significant path between its conventional drug-dispensing identity and a pioneering clinical role with health care provider status, where the pharmacists are the bridges between pharmacy and public for drug prescribing and dispensing. In the future pharmacists will not only dispense drugs but will also provide patient-centered, individualized pharmaceutical services, the pharmacist will be eligible to practice more clinically. With this new community practice arrangements, pharmacists will help to lower health care costs and improve patient health and safety.
The genomics revolution, which has seemingly pervaded all of the biological and biomedical sciences, has brought about its most impressive advances in the pharmaceutical sciences. The technological advances in high-throughput DNA sequencing, in assessing gene expression for thousands of transcripts, and in RNA construFcts to silence specific genes have not only been the driving force behind genomic studies, but have also contributed to an emerging paradigm shift that is occurring in pharmacology, drug development, and pharmacotherapeutics. The molecular tools now readily available to laboratories have hastened the shift from drug development based largely on chemistry to one based on our growing biological knowledge of the physiological and molecular effects of compounds. It is now becoming possible with these tools to assess at the cellular level the nature of drug action, toxicity, and tolerance. Similarly, our understanding of human disease is being refined, which will lead to more precise therapeutic interventions based on more precise understandings of disease states.
Pharma Middle East 2020 provides the most determined platform to share one's knowledge and to explore the professional bonding between Pharma and health sciences. It is going to be a 2-day event to ensure network for clinical and medical excellence, scientific research advancements, global knowledge on pharma and medicine, evident transformations in drug designing and delivery, Innovative scientific techniques, new utilities of Pharmaceutical Sciences with all other health sciences at one place.
Role of Pharma in World:
Pharma companies have always interacted with consumers. They have marketed directly to users, especially in the U.S., and they involve patients in clinical trials. They thus have some limited experience with consumer-facing business models. In this new era, pharma companies will have to become more proactive with large communities of patients and go beyond lip service in meeting the needs of a wide swath of consumers.
Pharma Market Analysis:
Countries with the highest per capita in the Pharmaceutical Industry
The United States is leading with $339,694 million per capita through its pharmaceuticals market, followed by Japan in second place with $94,025 million and China in third place with $86,774 million.
Pharmaceutical products that were highly marketed in the year 2017: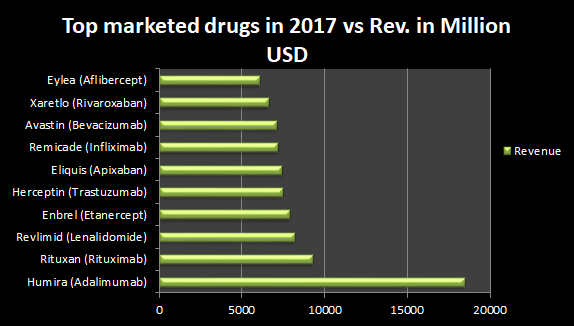 The global market for individual drugs was given as per the below, and as per the chart it describes the respective drug's market values in present economic year i.e., 2017 or 2018 in billion USD and expected growth rate by 2022 and 2023 and the CAGR is given in percentage growth.
Pharmaceutical excipients have its value of 6.8 billion USD in 2017 and it is expected to reach 8.7 billion USD by 2022 and its CAGR will be 4.9% from 2017-2022.
Lung Cancer therapeutics has its value of 17.9billion USD in 2018 and it is expected to reach 26.3 billion USD by 2023 and its CAGR will be 8.0% from 2018-2023.
Bioinformatics has its value of 6.4 billion USD in 2017 and it is expected to reach 16 billion USD by 2022 and its CAGR will be 20.0% from 2017-2022.
HIV therapeutics has its value of 22 billion USD in 2017 and it is expected to reach 27.1 billion USD by 2022 and its CAGR will be 8.0% from 2017-2022.
Lysosomal storage diseases have its value of 5.1 billion USD in 2018 and it is expected to reach 7.6 billion USD by 2023 and its CAGR will be 8.3% from 2018-2023.
Proteomics has its value of 7.9 billion USD in 2017 and it is expected to reach 16.8 billion USD by 2022 and its CAGR will be 16.2% from 2017-2022.
Antipsychotic drugs have its value of 13.2 billion USD in 2018 and it is expected to reach 14.5 billion USD by 2023 and its CAGR will be 1.9% from 2018-2023.
Protein analysis methods have its value of 11.6 billion USD in 2018 and it is expected to reach 19 billion USD by 2023 and its CAGR will be 10.4% from 2018-2023.
Cell-based assays technical and methods have its value of 20.1 billion USD in 2018 and it is expected to reach 32.7 billion USD by 2023 and its CAGR will be 10.2% from 2018-2023.
World's highest revenue generators in the Pharmaceutical Industry- pharmaceutical Companies with the highest annual revenue in million US dollars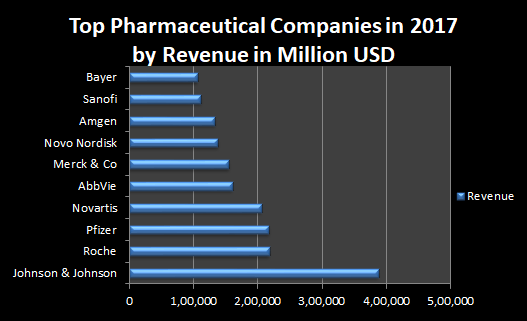 Pharma Societies and Association in the Middle East:
Turkish Pharmacists' Association
Pharmaceutical Industry Association of Turkey
International Society for Pharmaceutical Engineering-Turkey Affiliate
Istanbul Chemical Products Exporters' Association (IKMIB)
Pharmaceutical Manufacturers Association of Turkey
Association of Research-Based Pharmaceutical Companies, Turkey
Turkish Pharmaceutical Exporters
Turkey, TPA.YC International Pharmaceutical Students' Federation
Emirates Medical Association
Pharmaceutical Egyptian Association
Egyptian Pharmacists Co
Egyptian Pharmacists Association ( EPA )
Egyptian Pharmaceutical Students' Federation
Egypt - FIP - International Pharmaceutical Federation
Tanta Pharmaceutical Scientific Society
Emirates Pharmacy Society: Pharma Regulatory Affairs
EDA - Egyptian Drug Authority
Foreign Trade Association Ltd., Egypt
Saudi Pharmaceutical Society
International Iraqi Medical Association (IIMA)
Iraq Pharmaceutical Association
Iraqi Community Pharmacists Association
Iraqi Medical Association (UK)
Gulf Pharmaceutical Industries Association
Pharmacy Postgraduate Society (PPS), Qatar
Iranian Medical Association Network
Iranian Scientific Pharmaceutical Association
Iranian Association of Pharmaceutical Scientists (IASP)
Iran Pharmacy Specialists Society
Kuwait Pharmaceutical Association
The Pharmaceutical Association of Israel
To share your views and research, please click here to register for the Conference.
To Collaborate Scientific Professionals around the World
Special Issues
All accepted abstracts will be published in respective Our International Journals.
Abstracts will be provided with Digital Object Identifier by