Day 1 :
Session Introduction
University of Baghdad, Iraq

Biography:
Dr Ahmed Al-Imam is a 34 years old Dermatologist and a researcher. Dr Al-Imam has a Postgraduate Diploma at Queen Mary University of London (Clinical Dermatology) and a master's of research degree at the University of Hertfordshire (novel psychoactive substances). Further, he has postgraduate qualifications in Human Anatomy and Physiology from the University of Florida, and in Comparative Anatomy (Canada). Dr Al-Imam is a winner of the Chevening's International Scholarship (2011-2012), and the Chancellor's International Scholarship (2014-2015). He is a member of the; Canadian Association of Neuroscience, National Academy of Neuropsychology, European Academy of Dermatology and Venereology, American Association of Anatomists, Japanese Association of Anatomists. He has publications in the field of Human Anatomy and Biomechanics, Dermatology, and Neuroscience. His conferential participations are evident. He served as a guest editor at the fourth International Conference of Novel Psychoactive Substances (Hungary, 2016).
Abstract:
BACKGROUND: The acetic acid in the form of vinegar has been used for medicinal purposes since ancient times. Acetic acid is reported to be used for therapeutic purposes at 1-5% concentration. The mechanism behind the regenerative potential of commercial acetic acid has not been fully explored.
MATERIALS & METHODS: Twelve Iraqi patients with chronic skin ulceration were admitted and managed at a Dermatology clinic. Patients included men (7) and women (5) of diverse age groups (23-81 years). The aetiology behind the skin ulceration included; diabetic ulcer, decubitus ulcer, and others induced by trauma, bone fracture, insect bites and substance abuse. All patients were strictly treated with commercial acetic acid (at 4-6% concertation) and followed-up in time until the complete resolution of their cutaneous ulcerations.
RESULTS & DISCUSSION: This study is quasi-experimental; two cases are discussed thoroughly. The first case belongs to a Caucasian male aged 26 years with schizophrenia and addiction towards psychoactive substances; he developed a refractory ulcer in left cubital fossa following intravenous injection. The second case belongs to a middle age male patient, hypertensive otherwise healthy. He had a displaced intra-articular fracture affecting the distal end of the left radius. It was surgically treated with an internal fixation that was incriminated for the development of an ulcer over the volar aspect of left forearm overlying the internal fixation site. Local disinfection with commercial apple vinegar was very effective in restoring the skin integrity with minimal scarring.
Session Introduction
Pzifer, USA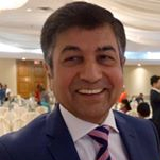 Biography:
Asif Mahmood has diverse leadership experience as a health service professional with significant accomplishments in all aspects of pharmacovigilance, clinical development, medical affairs, regulatory affairs, primary health care, project management & international health programs. He has vast experience of working in diverse therapeutic areas including rare diseases, novel preventive & therapeutic vaccines, monoclonal antibodies, cardiovascular, oncology, neurology, nosocomial diseases, generic and OTC medicines.He is currently working as Disease Area Cluster Lead for Biosimilars & Drug Delivery Devices at Pfizer. Currently, Pfizer has the largest biosimilars portfolio in the industry that includes projects on Inflammation, Oncology, Hematology, ophthalmology etc. My past experience includes working as Associate vice president PV and Therapeutic Area Head (Rare Diseases) for Sanofi Genzyme, working as Senior Director & Director for vaccines PV at Sanofi Pasteur, working as Medical Consultant for Apotex Inc Canada. Prior to joining the industry, he had worked as Joint Executive Director for Pakistan Institute of Medical Sciences (PIMS), Registrar of the Postgraduate medical institute PIMS and as Deputy Director General, Ministry of Health Pakistan. He also has worked on various primary healthcare, public health, health planning & development programs as well World food, UNICEF, WHO & JICA assisted programs on drug safety, emergency preparedness, and primary health care.
Abstract:
Advances in biotechnology have ensured a world of opportunities for biosimilars to enter the market and serve the needs of patients in a cost-effective manner. However, Pharmacovigilance and risk management for biosimilars present a significant challenge that arises from their unique characteristics as biologics as well as from their differences with the reference innovator products. Traditional PV processes may not incorporate sufficient provisions to meet the particular requirements for biosimilars. While a biosimilar and its reference drug can show similar efficacy, it can exhibit a different safety profile with respect to the nature, seriousness, or incidence of reported adverse events (AEs). Therefore, there is a need to clearly identify the specific product associated with the AE. Hence, product naming is an important consideration for biosimilars traceability. The potential for immunogenicity represents an important safety concern with all biologics, including biosimilars. The nature and severity of immunogenic reactions may differ from those observed for the reference innovator and immunogenicity data from the reference product may not be directly extrapolated to the biosimilar.
Session Introduction
Gulf Medical University, UAE

Biography:
Dr Ibrahim Elsayed is an associate professor and chair of Pharmaceutical Sciences department at Gulf Medical University, Ajman UAE. He did his PhD in Pharmaceutics and Industrial Pharmacy from Cairo University in 2011 and graduation diploma in Health-Professions Education from Gulf Medical University in 2015. He has experience in teaching almost all pharmaceutics courses including dosage forms, biopharmaceutics, pharmacokinetics, reaction kinetics, industrial pharmacy, quality control and assurance. As an administrator, he did preparation of the self-study report for CAA accreditation and ACPE certification, Developing integrated pharmacy curricula., Preparation of the college strategic plan 2017-2022, Participation in employment, quality assurance, assessment and curriculum committees, Developing and monitoring course and instructor online evaluation forms, Preparation and revision of course syllabi and files, Creating lectures and exams timetables using advanced software, Establishing nanotechnology research and IV skills labs.
Abstract:
Lipotomes is novel lipid-based nanocarriers composed of cetyl alcohol and a surfactant such as Tween 80. Lipotomes combine the lipophilic environment of cetyl alcohol and solubilizing effect of Tween 80 and so, it offers a dual action for increasing drug bioavailability. Consequently, lipotomes could be the key tool for the bioavailability enhancement of water-insoluble drugs suffering from a significant inactivation by the first pass effect. Moreover, prolipotomes has been developed to increase its physical stability through out the shelf-life. Prolipotomes are hydrated after administration to form the lipotomal nanovesicles in situ. On the other hand, lipotomes can enhance transdermal delivery of wide range of drugs due to its nano-size and the presence of Tween 80 that can act as a physical penetration enhancer through disrupting the lipid layers of the skin.